The scope of the research project is to develop a Conservation Plan for the two Halls designed and built by Pier Luigi Nervi in Turin Exhibition Center, with emphasis on structural and seismic issues. The entire complex has been the object of a preliminary Concept Masterplan, financed by the Municipality of Turin (Città di Torino).
The research work will be carried out by three different work stream groups (also called research teams) interacting with the dissemination team. The Scientific Advisory Board will preside on the evolution of the research process. The different research teams will send regular reports to the Advisory Boards and will have the opportunity to meet its members in the occasion of the workshops or eventually in specifically set up meetings.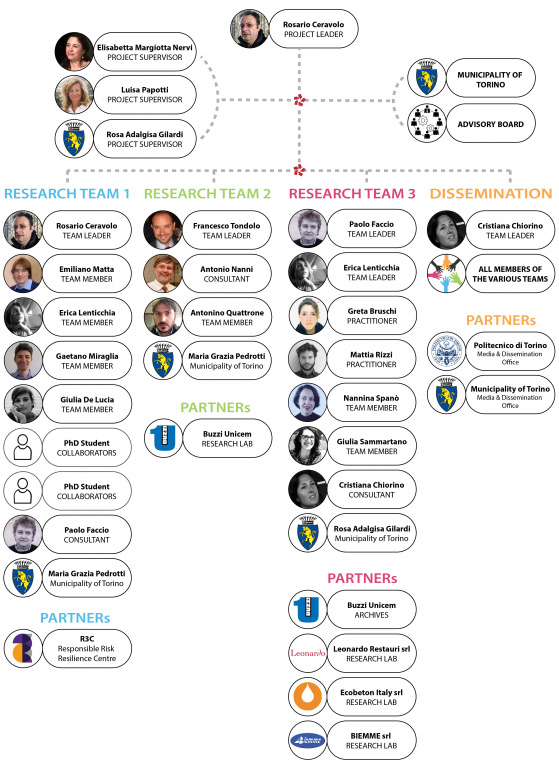 Each Research Team will contribute to the best outcome of the project by supplementing the different skills and competences required by the interdisciplinary approach chosen for the research process.
Our Conservation Plan will analyze both Halls from multi-disciplinary point of view in order to preserve the original fabric as well as the spatiality of both Halls. The structural response of the building will be assessed by using essentially non-destructive tests (as described in the previous sections of the work plan), numerical models, and laboratory mockups. These investigations will provide the best practice and retrofit strategies to structurally preserve Hall B and Hall C from earthquakes and materials degradation. The guiding principle will be the notion of "authenticity of existing materials" as sanctioned in 2011 by the International Council on Monuments position and Sites (ICOMOS), which recommends that in the modern heritage, "The consolidation and preservation of significant elements is preferable to any replacement" (2011). The future renovation of Nervi's Halls will have to be based on the set of recommendations developed by the Conservation Plan.